WE ARE PROUD TO ANNOUNCE THE
OAKLAND GOLF CLUB
HAS BEEN AWARDED
The Republican Newspaper's Greatest GOLF COURSE of Garrett County for 2020!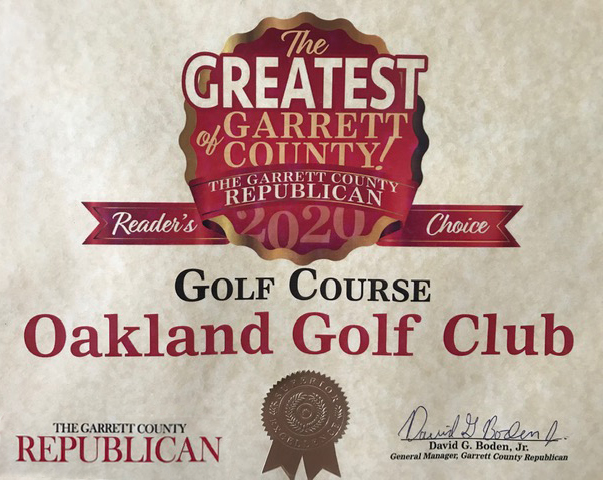 GREAT NEWS
The golf course is open for regular business for members and guests, including use of carts but they will be issued one per player unless you are playing with a family member. Walking is encouraged, especially since we have a limited number of golf carts. 
Golfers must maintain social distancing guidelines. We ask that you do not enter the Pro Shop without wearing a mask.  
Do not touch or pull the pins.
The food and beverage concession SHRIMP ON THE BARBIE is now open for golfers and the local community.
————-
End-of-Summer  update

From the Board of Directors:
We hope you have had a wonderful summer playing golf at our Oakland Golf Course. The weather couldn't have been nicer and you all adapted pretty well to the COVID-19 golf guidelines. We still have many weeks to play this season and the course is never lovelier than when it's surrounded by the glory of our autumn colors.
Starting today, it's ELECTION TIME FOR OGC BOARD OF DIRECTORS. Every year 3 members of the Board of Directors end their term and 3 new ones are elected after a nomination process so that our Board always has 9 members. This process has been posted on bulletin boards at the club house. The members whose terms are ending are Harold Harsh, Jim Ashby and Gisele Mohler.  Nominations of paid OGC members should be submitted to the Pro Shop. They will be accepted until September 16th. If more than 3 members are nominated, we will have an election and voting will begin September 21st and end September 30th.
The SILENT AUCTION of gift certificates to Stonewall Jackson Resort, Pipesteam Resort State Park, Valley View Golf Club, and Cress Creek ends September 3rd. Proceeds will benefit the Oakland Golf Course. Bidding sheets are on a stand-alone bulletin board in the Pro Shop.
Upcoming on Saturday September 26th is the 6th ANNUAL MARINE CORPS Tournament. This tournament benefits Toys for Tots, Healing Waters, It's In the Bag, and Cindy's Fund, among others. It will be a tee time start. This tournament has many prizes in addition to low gross and low net. The tournament is open to all golfers. You can sign up in the Pro Shop to play and/or to sponsor a hole.
That's all for now except to say CONGRATULATIONS to the president of our Oakland Ladies Golf Association, Cindi Cramer, who got a Hole in One on #13 on August 25th.
—–
Hope to see you on the course often, AND please:
–  help us to enforce COVID-19 rules especially to guests who are not familiar with them,
–  repair ball marks on the greens (yours and other's),
–  return clumps of grass to divots on the fairways,
–  keep golf carts a minimum of 30 feet from the green, and
–  take all your trash out of your carts before returning them.
.
Hit 'em long and straight!